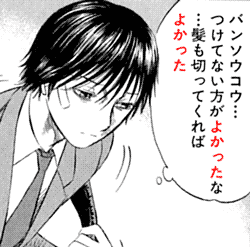 Translation
Context: character regrets his appearance.
bansoukou...
tsuketenai hou ga yokatta na
バンソウコウ・・・
つけてない方がよかったな
It would have been better if if [I] hadn't put a band-aid.

Fun fact: band-aid is a brand name, the generic name is "adhesive bandage."

...kami mo kitte-kureba yokatta
・・・髪も切ってくればよかった
...the hair, too, would have been better if [I] had gone cut it.

kitte-kureba - ba-form of:
kitte-kuru
切ってくる
To cut and come. To go cut and come back.

Relevant Articles
File Usage
The file yokatta-regret-holy-land-ch55.png has been used in the following articles: