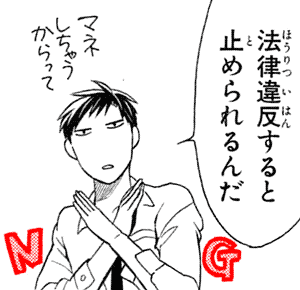 Translation
Context: Nozaki Umetarou 野崎梅太郎, a mangaka 漫画家, explains why he can't add delinquent characters in his manga that actually do illegal things.
houritsu ihan suru to tomerareru-n-da
法律違反すると止められるんだ
If [they] break the law [the publishes will] stop [the manga].
mane shichau kara tte
マネしちゃうからって
[They say] [it's] because [the readers, who are kids,] will copy [it].
enu-jii
NG
No good.
Relevant Articles
File Usage
The file ng-nozaki-kun-vol01-ch02-p20.png has been used in the following articles: