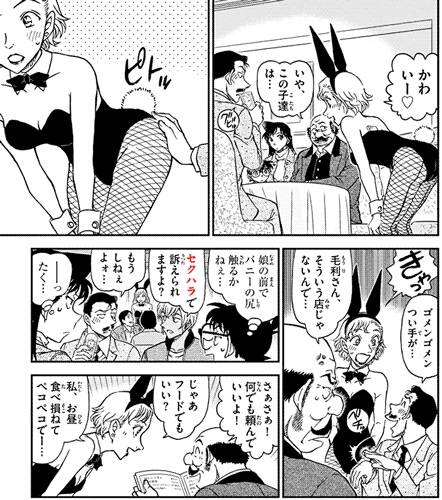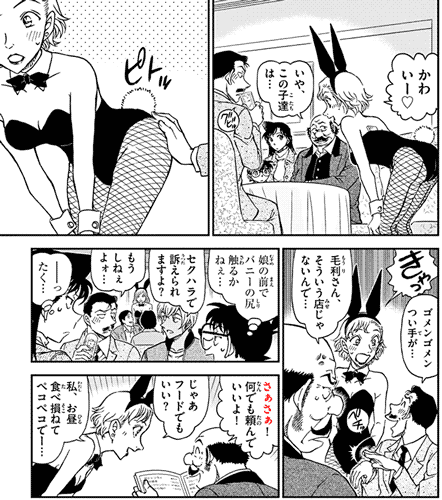 Translation
Context: a genius detective whose body has reverted to a child for reasons is brought to a club featuring bunny girls in order to investigate a crime. One of the bunny girls mistakes him for the child of a regular customer.
kawaii ♥
かわいー♥
[He] is a cutie ♥.
iya, kono ko-tachi wa...
いや、この子達は・・・
[You've got it wrong], these children [are]...
pito'
ピトッ
*sound effect for contact.*
kya'
きゃっ
*shriek*
gomen gomen tsui te ga...
ゴメンゴメンつい手が・・・
Sorry, sorry, [my] hand just... (did it on its own, without thinking.)
Mouri-san, souiu mise jainai-n-de...
毛利さん、そういう店じゃないんで・・・
Mouri-san, [this] isn't that sort of establishment...

It's a restaurant with bunny girl waitresses, not anything lewder.

peki'
ペキッ
*slapping [his own hand]*
musume no mae de banii no shiri sawaru ka nee...
娘の前でバニーの尻を触るかねぇ・・・
[You'd] touch a bunny [girl]'s butt in front of [your] daughter, [huh]...
sekuhara de uttaeraremasu yo?
セクハラで訴えられますよ?
[You're going to] get sued for sexual harassment, [you know]?


Because he's a "groper," chikan 痴漢.

mou shinee yoo...
もうしねぇよォ・・・
[I] won't do [it] again...
ttaku...
ーーったく・・・
[Good grief]...
saa saa! nandemo tanonde ii yo!
さぁさぁ!何でも頼んでいいよ!
(Interjection used to hurry someone, like "come on")! [You] can order anything!
jaa fuudo demo ii?
じゃあフードでもいい?
Even food? (as opposed to alcohol.)
watashi, ohiru tabe-sokonete pekopeko dee...
私、お昼食べ損ねてペコペコでー・・・
I didn't eat lunch so [I'm starving]...

pekopeko is an ideophone for being hungry.
~sokoneru is an auxiliary verb meaning "to fail to," "to miss." In this case, to fail to eat lunch, to miss the chance to eat lunch.
Relevant Articles
File Usage
The file sekuhara-meitantei-conan-vol95-file6.png has been used in the following articles: