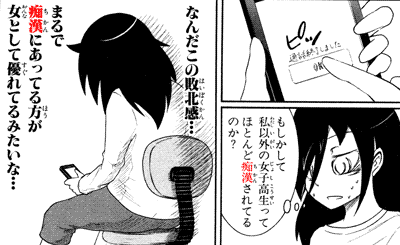 Translation
Context: Kuroki Tomoko 黒木智子 learns her friend has been groped in the train, proceeds to say one of the stupidest things you'll ever read in manga.
pi' den'wa shuuryou shimashita
ピッ電話終了しました
*beep* the call ended.
moshikashite watashi igai no joshikousei tte hotondo chikan sareteru no ka?
もしかして私以外の女子校生ってほとんど痴漢されてるのか?
Could it be that, except for me, most high school girls have been molested?
nanda kono haibokukan...
なんだこの敗北感・・・
What's with this feeling of defeat...
maru de chikan ni atteru hou ga onna toshite sugureteru mitai na...
まるで痴漢にあってる方が女として優れてるみたいな・・・
It's like if the ones that have had an encounter with a molester are superior as women...

Note: Tomoko has obvious mental issues, and she's the protagonist of a cringe dark comedy manga, so, for the love of all that's holy, disregard whatever she says.
But, anyway, her hypothesis is like saying "only hot girls get groped," which subsequently means, in Tomoko's mind, that "since I haven't been groped yet, that means I'm not hot enough."
Obviously, this is all sorts of wrong, because, again, Tomoko has some serious issues.
Relevant Articles
File Usage
The file chikan-watamote-ch24.png has been used in the following articles: