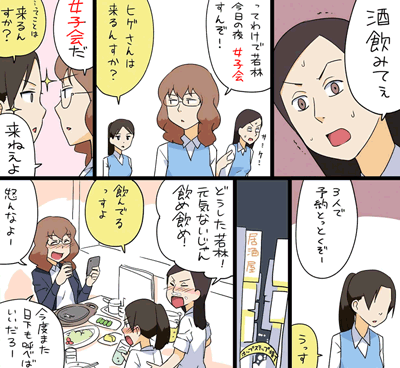 Translation
Context: Wakabayashi 若林 is in love with Hige 日下, who is a guy.
sake nomitee
酒飲みてぇ
[I] want to drink alcohol.
tte wake de Wakabayashi kyou no yoru joshikai sunzo!
ってわけで若林今日の寄り女子会すんぞ!
[That's how it is, so] Wakabayashi, today's evening [we] will do a joshikai!

sunzo is a contraction of suru zo するぞ.

Hige-san wa kuru-n-su ka?
ヒゲさんは来るんすか?
Will Hige-san come?

kuru-n-su ka is a contraction of kuru no desu ka 来るのですか.
Wakabayashi contracts desu and masu to su, ssu. This is sometimes said to be a half-hearted type of keigo.

joshikai da
女子会だ
It's a joshikai.

A "girls meeting" for drinking, and Hige is a guy.

tte koto wa kuru-n-su ka?
ってことは来るんすか?
[Which means] [he] will come?
konee yo
来ねぇよ
[He] won't come!

konee is a contraction of konai 来ない.

san-nin de yoyaku tottoku zo~
3人で予約とっとくぞー
[I] will make a reservation for three people~.

tottoku is a contraction of totte-oku とっておく.

ussu
うっす
[Alright].
izakaya
居酒屋
(a sort of Japanese bar-restaurant serving drinks, food, and snacks.)
hoppu steppu yokochou
ホップステップ横丁
Hop Step Alley.
doushita Wakabayashi! genki nai jan nome nome!
どうした若林!元気ないじゃん飲め飲め!
[What's wrong] Wakabayashi! [You're so quiet], drink drink!

genki 元気 is lively, energetic, so genki nai is the opposite: seeming down, being quiet, etc.

nonderu ssu yo
飲んでるっすよ
[I] am drinking.


Same as nonde-imasu yo 飲んでいますよ.

okonna yoo
怒んなよー
Don't get angry~

Contraction of okoru na 起こるな.

kondo mata Hige mo yobeba ii daroo
今度また日下も呼べばいいだろー
Next time [we just have to] call Hige, too, right?


yobeba ii 呼べばいい means it would be "good," better, if we "call" Hige.
See hou ga ii 方がいい.
Relevant Articles
File Usage
The file joshikai-ojisan-to-marshmallow-vol01-p54.png has been used in the following articles:
Office lady.

サラリーマン. An office worker.