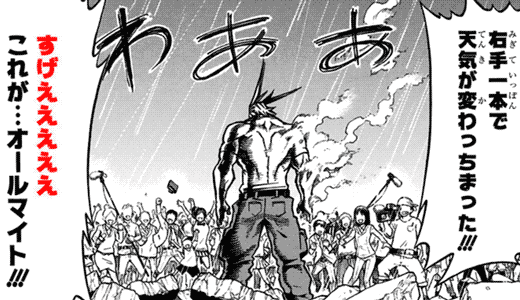 Translation
Context: All Might punched a villain so hard it started raining. (seriously.)
migite ippon de
tenki ga kawacchimatta!!!
右手一本で 天気が変わっちまった!!!
He changed the weather with just his right arm!!!

Literally:
With one right arm the weather ended up changed!!!
ippon 一本
One cylindrical object. (one arm, in this case.)

sugeeeeee
すげぇぇぇぇぇ
AWESOOOOOOME
kore ga...
Ooru Maito!!!
これが…オールマイト!!!
This [is]... All Might!!!
Relevant Articles
Also known as "past form."
File Usage
The file sugee-all-might-boku-no-hero-academia.png has been used in the following articles: