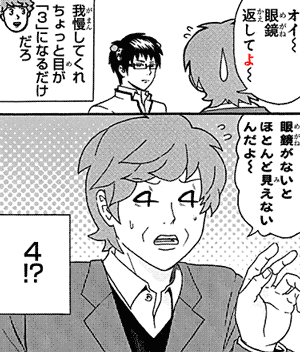 Translation
Context: Saiki borrows his father's glasses without permission.
oi~~ megane kaeshite yo~~
オイ~~眼鏡返してよ~
Heey, give [my] glasses back~~
gaman shite kure chotto me ga "san" ni naru dake daro
我慢してくれちょっと目が「3」になるだけだろ
Please endure [it], [all that will happen is that] [your] eyes will become "threes."
megane ga nai to hotondo mienai-n-da yo~~
眼鏡がないとほとんど見えないんだよ~
Without [my] glasses [I] almost can't see.
yon!?
4!?
Fours!?
Relevant Articles
File Usage
The file yo-particle-saiki-ch72.png has been used in the following articles: