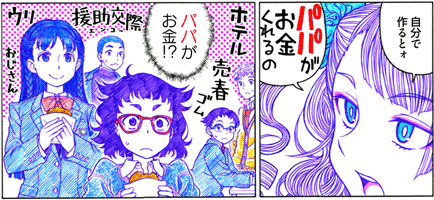 Translation
Context: Gyaruko explains why she makes bread instead of buying it from a bakery.
jibun de tsukuru too papa ga okane kureru no
自分で作るとォ パパがお金くれるの
If [I] make [it] myself, daddy gives [me] money.
papa ga okane!?
パパがお金!?
Daddy [gives] money!?
The text in the background are the thoughts of students assuming she means a sugar daddy rather than her actual father:
Relevant Articles
援助交際. Compensated dating.

おじさん, "uncle," "old man."
File Usage
The file papa-galko-ch03-p42.png has been used in the following articles: