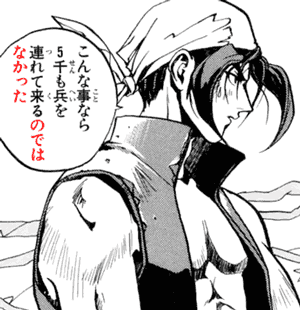 Translation
Context: the battle ends without a fight.
go-sen mo hei wo tsurete-kuru no dewanakatta
5千も兵を連れて来るのではなかった
I shouldn't have brought [all these] 5000 soldiers.

mo も particle - here, it emphasizes the number 5000. It implies that maybe bringing 100 would suffice, rather than implying he shouldn't have brought any of the 5000.
Relevant Articles
こんな, そんな, あんな, どんな, "like this," "like that," "like what."

Shouldn't have.
File Usage
The file kuru-no-dewanakatta-houshin-engi-ch02.png has been used in the following articles: