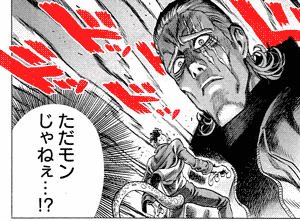 Translation
Context: King キング is the strongest man on Earth. When he enters battle mode, a powerful thumping rumbling sound known as the King Engine キングエンジン can be heard. In this panel, he faces a monster who becomes terrified upon hearing the sound.
do'do'do'do'
ドッドッドッドッ
*sound of the King Engine*
tada mon janee...!?
ただモンじゃねぇ・・・!?
[He] isn't just some guy...!?
Relevant Articles
File Usage
The file dodododo-king-engine.png has been used in the following articles: