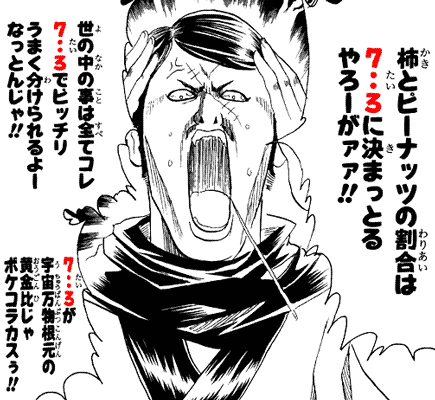 Translation
Context: Kurogoma Katsuo 黒駒勝男 explains the perfect ratio of rice crackers to peanuts.


Note: kakipii 柿ピー is common mixture of two snacks, kaki no tane 柿の種, which is rice cracker shaped as a "persimmon seed," and peanuts.

kaki to piinattsu no wariai wa hichi tai san ni kimattoru yaroo gaaa!!
柿とピーナッツの割合は7:3に決まっとるやろーがァァ!!
The ratio of rice crackers to peanuts is [obviously] 7:3!!

kimattoru yarou - same as kimatte-iru darou 決まっているだろう.

yo no naka no koto wa subete kore, hichi tai san de picchiri umaku wakerareru yoo nattonja!!
世の中の事は全てコレ

 

7:3でピッチリうまく分けられるよーなっとんじゃ!!
Everything in the world is this (like his hair), [created so that] [it] can be perfectly divided into seven to three!

wakerareru yoo ni nattonja - same as wakerareru you ni natte-iru-n-da 分けられるようになっているんだ.
An eventivization of the stative verb wakerareru, "to be able to divide," which is the potential form of wakeru 分ける, "to divide."

hichi tai san ga uchuu banbutsu kongen no ougonhi ja, boke kora kasuu!!
7:3が宇宙万物根元の黄金比じゃボケコラカスぅ!!
Seven to three is the golden ratio of the origin of all creation in the universe, *expletives*!!
Relevant Articles
File Usage
The file shichisanwake-gintama-ch105.png has been used in the following articles: