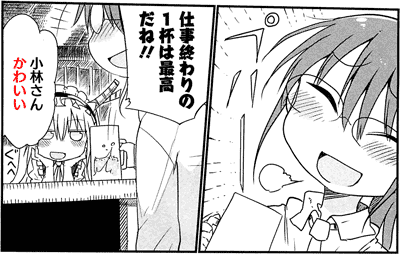 Translation
Context: Kobayashi 小林 drinks in the company of Tohru トール.
puhaa
プハー
*beer sigh*

shigoto-owari no ippai wa saikou da ne!!
仕事終わりの1杯は最高だね!!
The one glass [after]-work is the best, [isn't it]!!

owari - noun form of owaru 終わる, "to end."
shigoto-owari - end of work, i.e. after one's work ends.
Relevant Articles
File Usage
The file kawaii-maidragon-ch04.png has been used in the following articles: