Not Safe For Work.
Warning: this image may feature content not intended for minors or disturbing content.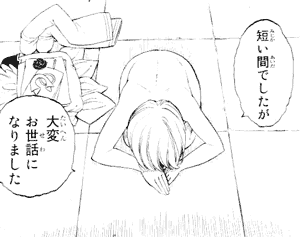 Character:
Yukino Aguria
ユキノ・アグリア
Manga:
Fairy Tail
(Chapter 281, 怨みは夜の帳に包まれて)
Translation
Context: Yukino Aguria fails her guild, and, as punishment, is forced to strip naked and grovel in front of everyone, on top of being expelled from the guild.

In the TV anime adaptation, she only gets naked, no grovelling.
Obviously one of the producers at the committee was like "gee, man, is this whole grovelling thing really necessary? I can practically hear the complaints already coming from the parents of our audience, whom are supposed to be children, since this is a PG-13 anime."
And of course source-reading fanbase of Fairy Tail was absolutely disappointed at finding out there's censorship on TV.

mijikai aida deshita ga taihen osewa ni narimashita
短い間でしたが大変お世話になりました
[It] was [for] a short while, but [I] was deeply in [your] care.

osewa ni narimashita - expression of gratitude used after leaving one's care, in this case, leaving the guild.
Relevant Articles
A pose of prostration, or grovelling.
File Usage
The file zenra-dogeza-fairy-tail-ch281.png has been used in the following articles: