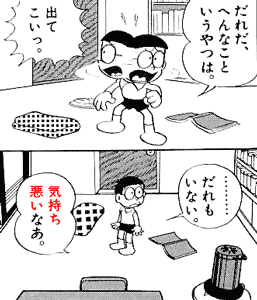 Translation
Context: Nobita hears a voice telling him things.
dare da,
hen-na koto
iu yatsu wa.
だれだ、へんなこというやつは。
Who is it, the one [who] says weird things?
dete-koi'
出てこいっ。
[Show yourself]!

dete-koi 出て来い
(imperative form of.)
dete-kuru 出て来る
To leave and come. (i.e. to leave wherever they're hiding and come face Nobita.)

.........dare mo inai.
・・・・・・・・・だれもいない。
.........there's nobody [here].
kimochi warui naa.
気持ち悪いなあ。
[This is] unpleasant, uh.
[This is] creepy, uh.
Relevant Articles
File Usage
The file kimochi-warui-doraemon.png has been used in the following articles: