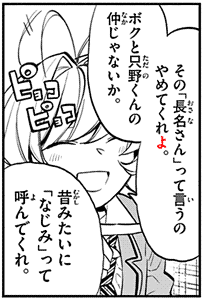 Translation
Context: a childhood friend of Tadano 只野 wants to be called on first-name basis, without a honorific suffix.
sono "Osana-san" tte iu no
yamete kure yo.
その「長名さん」っていうのやめてくれよ。
Please stop with that "Osana-san."

Stop calling me "Osana-san"

boku to Tadano-kun no naka janai ka.
ボクと只野くんの仲じゃないか。
It's mine and Tadano's relationship, isn't it?

It's our relationship, isn't it?
Osana-san means they don't have a cold, distant, family-name basis relationship, they have an intimate, friendly, first-name basis relationship.

pyoko-pyoko
ピョコピョコ
*[hair] bounce bounce* (mimetic word.)
mukashi mitai ni
"Najimi" tte
yonde kure.
昔みたいに「なじみ」って呼んでくれ。
Like old times, call me "Najimi."
Relevant Articles
この, その, あの, どの.

僕. "I," "me," "boy."
File Usage
The file yo-particle-komi-san-ch10.png has been used in the following articles: