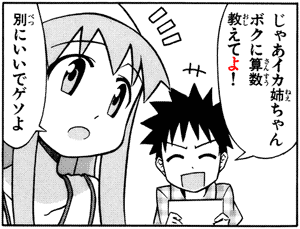 Translation
Context: a young boy asks a squid girl for help with his studies.
jaa Ika-neechan, boku ni sansuu oshiete yo!
じゃあイカ姉ちゃん

 

ボクに算数教えてよ!
Then, Ika-neechan, teach me arithmetic!

neechan - older sister, may also be used toward young women whom one's not related to, specially used by children toward any girl older than them.
Relevant Articles
お姉さん, "plder sister," "young woman."

僕. "I," "me," "boy."
File Usage
The file yo-particle-ika-musume-ch28.png has been used in the following articles: