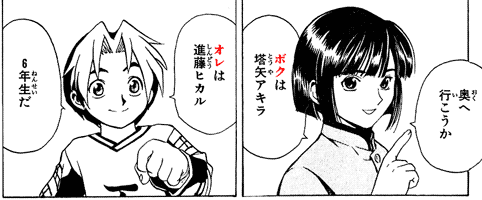 Translation
Context: the rival and the protagonist, both 11 years old, introduce themselves to each other.
oku e ikou ka
奥へ行こうか
[How about we] go further inside?


oku - inner part, in this case of a go parlor, as opposed to standing by the entrance.
ikou - volitional form of iku 行く, "to go."

boku wa Touya Akira
ボクは塔矢アキラ
I'm Touya Akira.
ore wa Shindou Hikaru
オレは進藤ヒカル
I'm Shindou Hikaru.
roku-nen sei da
6年生だ
[I] am a sixth year student.


Relevant Articles
僕. "I," "me," "boy."

俺. "I," "me."
File Usage
The file boku-ore-hikaru-no-go-ch02.png has been used in the following articles: