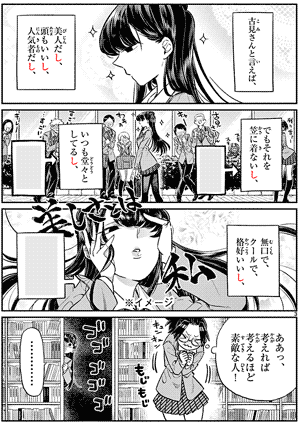 Translation
Context: a girl talks about Komi-san 古見さん.
Note: the panels with arrows aren't part of what she's saying, and have been censored.
Komi-san to ieba,
古見さんと言えば、
Komi-san is,

to ieba と言えば
If [you] were to say [A, you would say B.]
Used to describe A by listing its prominent features.

bijin da shi,
atama mo ii shi,
ninkimono da shi,
美人だし、頭もいいし、人気者だし、
[She] is beautiful, [she] is also smart, [she] is popular,
demo sore wo
kasa ni kinai shi,
でもそれを笠に着ないし、
But [she] doesn't "wear that as a hat,"

Just like wearing a hat protects you from rain, the expression also means, in Japanese, to abuse one's authority to get away with doing whatever one wants.
In order words, she's saying that Komi-san doesn't abuse the fact that she's beautiful and popular for her own personal gain.

itsumo doudou to
shiteru shi,
いつも堂々としてるし、
[She] always [acting] dignified,

doudou 堂々
Dignified. Majestically. Proudly.
to と particle - adverbializer.
shiteru してる
A contraction of shite-iru している, "to be doing." See i-nuki-kotoba い抜き言葉.
Literally: always doing dignified. Always doing things in a dignified manner.

mukuchi de,
kuuru de,
kakkou ii shi
無口で、クールで、格好いいし、
[She] is quiet, cool, stylish.
aa'
ああっ、
Aah,
kangaereba
kangaeru hodo
suteki na hito!
考えれば考えるほど素敵な人!
The more [I] think of it, the more [she] is a fantastic person!

sureba suru hodo ____
すればするほど〇〇
The more you do something, the more ____ it is.
Relevant Articles
File Usage
The file shi-particle-komi-san.png has been used in the following articles: