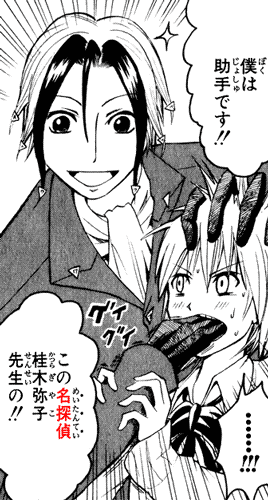 Translation
Context: just... just focus on the dialogue, okay?
boku wa joshu desu!!!
僕は助手です!!
I'm an assistant!!
kono meitantei
Katsuragi Yako-sensei no!!
この名探偵桂木弥子先生の!!
Of this famous detective, Katsuragi Yoko-sensei!!


She's a famous detective, because of her incredible detective skills, so she's addressed as a "master" of her craft.
The no の at the end turns the noun into a no-adjective, which normally qualifies what comes after it, but, in this case, it qualifies joshu, which is in a previous sentence.
sensei no joshu
先生の助手
Sensei's assistant.
Assistant of sensei.
The dots on the furigana of 名探偵 express emphasis.
Relevant Articles
僕. "I," "me," "boy."

この, その, あの, どの.
File Usage
The file meitantei-nougami-neuro-ch01.png has been used in the following articles: