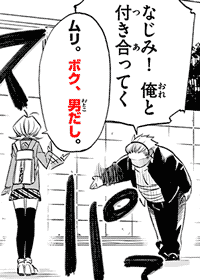 Translation
Context: a guy confesses to his skirt-wearing "childhood friend," osananajimi 幼馴染, who's called Osana Najimi 長名なじみ.
Najimi! なじみ!

ore to tsuki-atte ku
俺と付き合ってく
Will you date wi—

muri.
ムリ。
[No way.] (literary "impossible.")
boku, otoko dashi.
ボク、男だし。
I'm a guy.
Relevant Articles
俺. "I," "me."

僕. "I," "me," "boy."

Girl that's actually a boy.
File Usage
The file boku-otoko-dashi-komi-san-ch11.png has been used in the following articles: