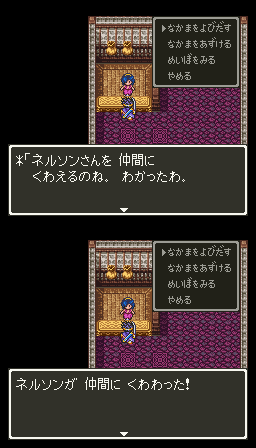 Translation
*"Neruson-san wo nakama ni
kuwaeru no ne. wakatta wa.
*「ネルソンさんを 仲間に
くわえるのね。わかったわ。
*"Add Nelson to your party, [right]? [I got it.]
neruson ga nakama ni kuwawatta!
ネルソンが 仲間に くわわった!
Nelson was added to the party!
For reference, the text in the menu:
nakama wo yobidasu
なかまをよびだす
Summon a party member.

yobidasu 呼び出す
To call [someone] so they come out.
To summon.

nakama wo azukeru
なかまをあずける
Leave a party member here.

azukeru 預ける
To leave [something] in someone else's hands.
To entrust.

meibo wo miru
めいぼをみる
See the register of names.

In the game, you can recruit new party members from this list.

yameru
やめる
Stop.

Leave. Exit. Close menu. Etc.

Title:
Relevant Articles
File Usage
The file nakama-dragon-quest-3.png has been used in the following articles:
Tenses have to do with the expression of time.