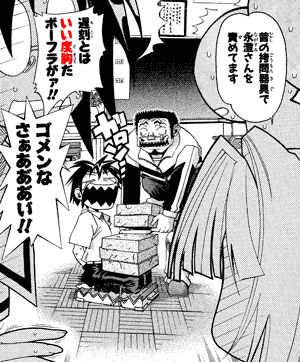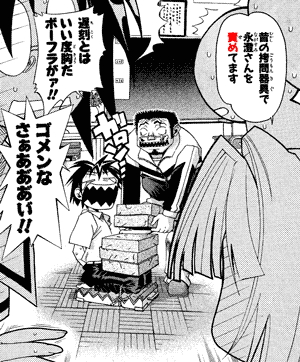 Translation
Context: what is your father doing?
mukashi no goumon kigu de Nagasumi-san wo semetemasu
昔の拷問器具で永澄さんを責めてます
[He] is torturing Nagasumi-san with an old torture tool.

mukashi no
昔の
Of the past. An old [something].

chikoku towa ii dokyou da boofura gaa!!
遅刻とはいい度胸だボーフラがァ!!
[You have some nerve] to be late [for school], [huh], [you] maggot!!
gomen nasaaaááí!!
ゴメンなさぁああ゛あ゛い゛!!
[I'm sorry]!!
Relevant Articles
濁点 ( ゛).

A torture method in which someone is made kneel on a ridged block and stone blocks are placed over their legs.
File Usage
The file ii-dokyou-seto-no-hanayome-ch11.png has been used in the following articles: