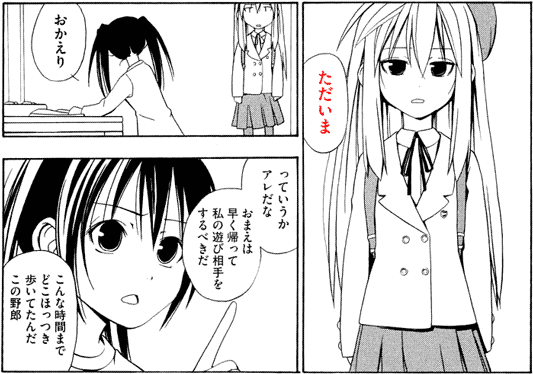 Translation
Context: Minami Kana 南夏奈 welcomes home her younger sister, Minami Chiaki 南千秋.
tadaima
ただいま
[I'm back].
okaeri
おかえり
[Welcome back].
tteiuka, are da na
っていうかアレだな
[Or rather], [it] is that.

are da - "[it] is that," as in "you know, it's that thing when, which, etc.," used like this to refer to an idea the speaker assumes to be known already, and will remind the listener of next.

omae wa hayaku kaette watashi no asobi-aite wo suru beki da
おまえは早く帰って私の遊び相手をするべきだ
You should return home quickly and be my play-partner.
You should come home quickly to play with me.

Kana reminds Chiaki of what she should do.

konna jikan made doko hottsuki-aruiteta-n-da, kono yarou
こんな時間までどこほっつき歩いてたんだこの野郎
Where were [you] loitering around until this [late], you bastard?

konna jikan made - until this hour, until this late.
~teta-n-da - contraction of ~te-ita no da ~ていたのだ.
Relevant Articles
"I'm back home."

Welcome back home.

私, "I," "me."

こんな, そんな, あんな, どんな, "like this," "like that," "like what."
File Usage
The file tadaima-minamike-ch01.png has been used in the following articles: