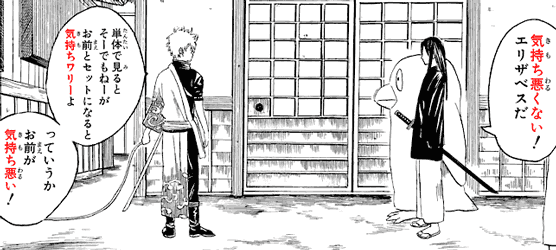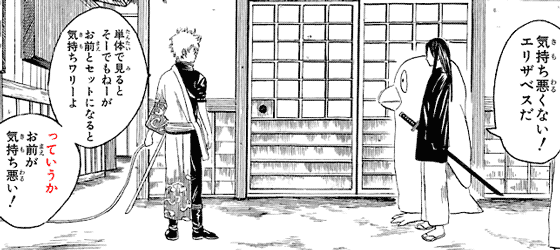 Translation
kimochi warukunai!
Erizabesu da
気持ち悪くない!エリザベスだ
[It's] not disturbing! It's Elizabeth.
tantai de miru to
soo demo nee ga
単体で見るとそーでもねーが
If [you] look at it separately it's not so but

soo demo nee そーでもねー
sou demo nai そうでもない
It's not like that.

omae to setto ni naru to
kimochi warii yo
お前とセットになると気持ちワリーよ
[when] it's in [accompanied by] you it's gross.
tteiuka
omae ga
kimochi warui!
っていうかお前が気持ち悪い!
Or rather you are gross!
Relevant Articles
"Not." "Is not." Negative forms suffix.

"To become."
File Usage
The file kimochi-warukunai-gintama.png has been used in the following articles: