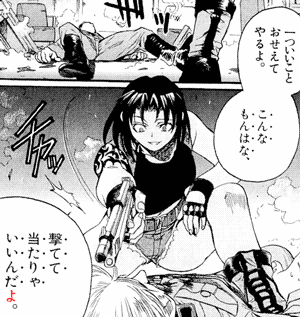 Manga:
Black Lagoon
(Chapter 8, Das Wieder Erstehen Des Adlers PT.4)
Translation
Context: Two-Hands succinctly elaborates her argument against the notion of which the appearance and/or background history pertaining to a firearm is of any importance.
konna mon wa na,
こんなもんはな、
This sorta thing, [you see],

konna mono こんなもの
This sort of thing.

utete atarya ii-n-da yo.
撃てて当たりゃいいんだよ。
[If you] shoot and [it] hits, [it's] good.


That's enough.
atarya - contraction.
utete atareba ii
撃てて当てればいい
Good if shoot and hit.
Relevant Articles
こんな, そんな, あんな, どんな, "like this," "like that," "like what."
File Usage
The file yo-particle-black-lagoon-ch08.png has been used in the following articles: