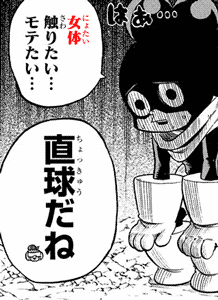 Translation
Context: Mineta Minoru 峰田実 being himself.
haa...
はぁ・・・
*sigh*
nyotai

φ

sawaritai... motetai...
女体触りたい・・・モテたい・・・
[I] want to touch a female body... [I] want to be popular [with girls]...
chokkyuu da ne
直球だね
[That's] a straight ball, [isn't it].

In the sense of a straight ball in baseball, meaning someone is being blunt, direct.
Relevant Articles
File Usage
The file nyotai-bnha-ch67.png has been used in the following articles:
女体化. Turning into a girl.