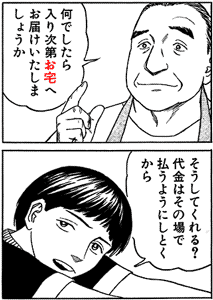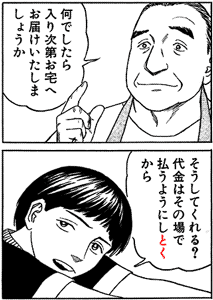 Translation
Context: a boy wants to buy a book, but it's out of stock.
nandeshitara hairi shidai otaku e otodoke itashimashou ka
何でしたら入り次第お宅へお届けいたしましょうか
[If you want] [I] will deliver [it] to [your] house [as soon as] [it] enters [stock].

shidai
次第
Depending on. In this case, when he delivers the book depends on when it enters stock. As soon as.
Relevant Articles
"Why."

この, その, あの, どの.

"Because." から particle.
File Usage
The file otaku-historie-ch06.png has been used in the following articles: