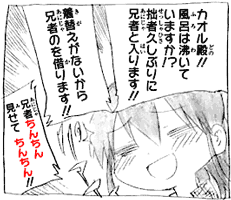 Translation
Context: no context in the world will make this make any sense.
Kaoru-dono!!
カオル殿!!

furo wa waite-imasuka?
風呂は沸いていますか?
Is the bath warmed up?
sessha hisashiburi ni anija to hairimasu!!
拙者久しぶりに兄者と入ります!!
I will, for the first time in a long time, enter [the bath] with my brother!!
kigae ga nai kara anija no wo karimasu!!
着替えがないから兄者のを借ります!!
[I] don't have a change of clothes so [I'll] borrow brother's!!
anija chinchin misete, chinchin!!
兄者ちんちん見せて

 

ちんちん!!
Brother, show me [your] wiener, [your] wiener!!
Relevant Articles
"Older brother."

"Not." "Is not." Negative forms suffix.

"Because." から particle.

ちんちん.
File Usage
The file chinchin-misete-danna-ga-nani-ch04.png has been used in the following articles: