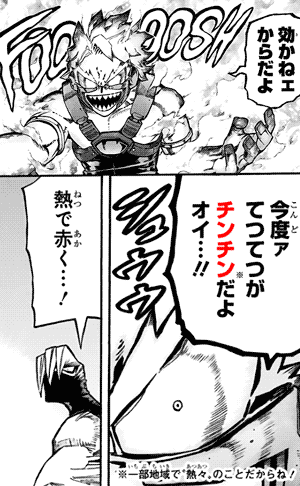 Translation
Context: Tetsutetsu Tetsutetsu 鉄哲徹鐵, whose body turns into "iron," tetsu 鉄, explains why he is the to face Todoroki Shouto 轟焦凍 in battle, who can use fire.
kikanee kara da yo
効かねェからだよ
Because [it] doesn't have effect!
Because the fire doesn't work on me!
kondo a Tetsutetsu ga chinchin da yo oi...!!
今度ァてつてつがチンチンだよオイ・・・!!
Tetsutetsu is chinchin now, oy...!!
shuuu
シュウウ
*vapor fuming*

※ichibu chiiki de "atsu-atsu" no koto da kara ne!
※一部地域で"熱々"のことだからね!
※In a certain region [it] means "atsu-atsu" [you see]!

Not to be confused with the chinchin that means "penis."
atsu-atsu, "very hot" - intensifying reduplication of atsui 熱い, "hot."

netsu de akaku

[natta]

...!
熱で赤く・・・!
[He]

[became]

hot with heat...!

Relevant Articles
File Usage
The file chinchin-Tetsutetsu-Boku-no-Hero-Academia-ch204.png has been used in the following articles: