Not Safe For Work.
Warning: this image may feature content not intended for minors or disturbing content.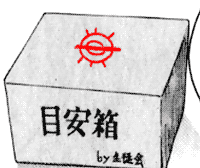 Translation
Context: the student council president comes up with an idea to make people want to put in suggestion into their suggestion box.

meyasubako, by seitokai
目安箱

 

by生徒会
Suggestion box, by student council.

omankomaaku おマンコマーク
mankomaaku マンコマーク
omekomaaku オメコマーク
The "pussy mark" refers to a symbol featuring two concentric circles ◎, one vertical line |, and ticks around the outer circle representing pubes.
Relevant Articles
File Usage
The file manko-maaku-seitokai-yakuindomo-vol01-p16.png has been used in the following articles: