Not Safe For Work.
Warning: this image may feature content not intended for minors or disturbing content.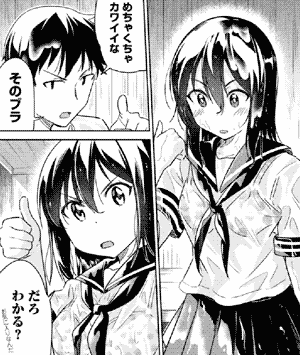 Translation
Context: a baka "couple," kappuru カップル.
daro, wakaru?
だろ

 

わかる?
Isn't that right, [you] get [it]?

daro - "isn't it," "isn't that right."
wakaru - "to understand." Sometimes used like this to mean "to relate" to an opinion or experience. You get it? You get what I'm saying? I understand. I totally get what you mean.

o ki ni iri nanda
お気に入りなんだ
[It] is [my favorite].

o ki ni iri - refers to something that you really like, to a favorite thing of yours.
Relevant Articles
Bra seen-through clothes.

この, その, あの, どの.
File Usage
The file sukebra-bakappuru-ch05.png has been used in the following articles: