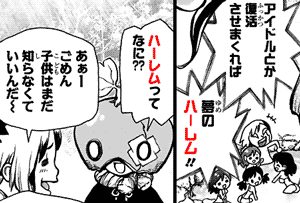 Translation
aidoru toka
fukkatsu
sasemakureba
アイドルとか復活させまくれば
If [you] revive a lot of idols, and so on.
yume no haaremu!!
夢のハーレム!!
It's the harem of [one's] dreams!!
haaremu tte nani??
ハーレムってなに??
What's a "harem"??
aa-- gomen
あぁーごめん
Aah, sorry.
kodomo wa mada shiranakute ii-n-da~~
子供はまだ知らなくていいんだ~
Children, still not understanding is okay.
It's fine if [you, who is] a child doesn't understand it yet.
Relevant Articles
File Usage
The file harem-dr-stone.png has been used in the following articles: