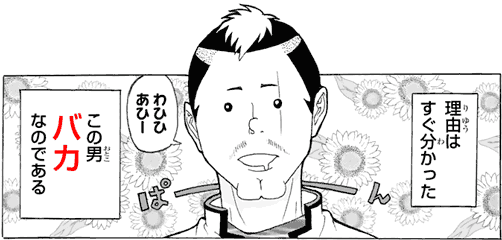 Translation
Context: Saiki Kusuo 斉木楠雄 explains why he can't figure out what Nendou Riki 燃堂力 is thinking.
riyuu wa
sugu wakatta
理由はすぐ分かった
The reason [I] understood immediately.
paaan
ぱーーーん
*ta da!* (sound effect used when something is presented, in this case, Nendou, the character.)
wahihi ahii
わひひ あひー
*idiotic snickering*
kono otoko
baka
nano de aru
この男バカなのである
This man is an idiot.
Relevant Articles
File Usage
The file baka-nendou-saiki-kusuo-no-psi-nan.png has been used in the following articles: