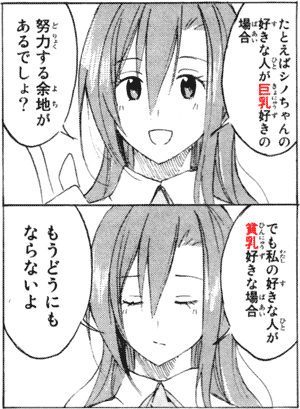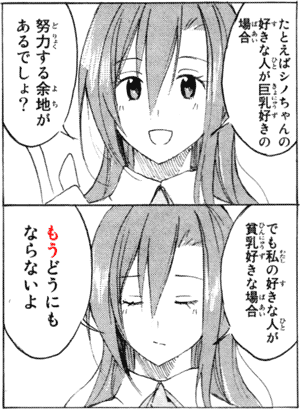 Translation
Context: Shichijou Aria 七条アリア explains to Amakusa Shino 天草シノ the hardships of having big breasts.
tatoeba Shino-chan no
suki na hito ga kyonyuu-zuki no
baai
たとえばシノちゃんの好きな人が巨乳好きの場合
For example, in the case [in which] Shino-chan's liked person is big-breasts-liking...

For example, [imagine] the person [that you] like likes big breasts...
baai 場合
Hypothetical case. (noun.)
Imagine that... (whatever come before this word.)
You have an adjective qualifying this word, describing what "hypothetical case" you're supposed to "imagine."
suki na hito 好きな人
Person [whom you] like. Romantic interest.
zuki 好き
-liking. (suffix version of suki 好き, "liking.")
-lover. Someone who likes something. Is liking something.

doryoku suru yochi ga aru-n-desho?
努力する余地があるんでしょ?
There's room [for you] to put effort, right?

i.e. you can still do something about it.
Just grow some breasts, Shino-chan!

demo watashi no suki na hito ga hinnyuu-zuki na baai
でも私の好きな人が貧乳好きな場合
But if the person I like likes small breasts.
mou dou nimo naranai yo
もうどうにもならないよ
Already won't become anyhow.

Won't take any shape. Won't happen.
It's already hopeless. Futile.
There's nothing I can do about it.
Relevant Articles
私, "I," "me."

もう.

"Like this," "like that," "like what," "how."
File Usage
The file kyonyuu-hinnyuu-seitokai-yakuindomo.png has been used in the following articles: