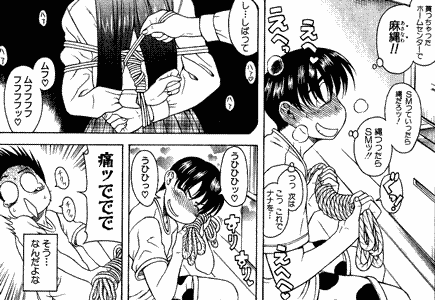 Translation
kacchatta, hoomu sentaa de, asanawa!!
買っちゃった ホームセンターで 麻縄!!
[I] bought [it], at the hardware store, hemp rope!!
esu-emu tte ittara nawa daro'!
SMっていったら縄だろッ!
[If you say SM, you think of rope, right!]
nawa tsuttara esu-emu!!
縄つったらSMッ!!
If you say rope, SM!!
tsu tsu tsugi wa ko' kore de Nana wo... shi... shibatte
つつ 次はこっ これでナナを・・・ し・・・ しばって
N-n-next time, [I] will use t-this to... t-tie... Nana up.
mufu♡ mufufufufufufufufu'♡
uhihihi'♡ uhihi'♡
ムフ♡ムフフフフフフフフッ♡
うひひひッ♡うひひっ♡
*unintelligible noises*

haa haa
ハァーハァー
*panting in the background.*

iddedede
痛ッででで
(very painful orthography.)

itai
痛い
Painful.
[It] hurts.

sou... nanda yo na
そう・・・なんだよな
[Oh... that's right.]

According to the manga, hemp rope isn't meant to tie people up, and Kaeru カエル needs to boil the rope, among other things, to make it suitable for use.
Relevant Articles
Also known as "past form."
File Usage
The file shibari-nana-to-kaoru.png has been used in the following articles: