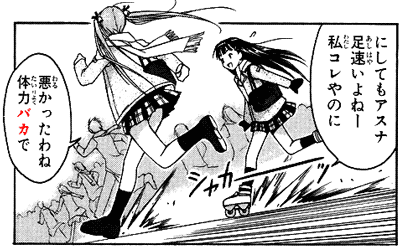 Translation
Context: a tsundere and her friend run to school.
ni shitemo Asuna
にしてもアスナ
[That said,] Asuna,
ashi hayai yo nee
足速いよねー

[Your] legs are fast. (literally.)
You [run] fast.

watashi kore ya no ni
私コレやのに
Even though [for] me, [I] have this.

This means the roller-skates. She's running at the same speed the other is rollerskating.

warukatta wa ne
悪かったわね
[Well, I'm sorry]
tairyoku baka de
体力バカで
For being a physical-strength baka.

i.e. for having so much stamina, endurance, agility, strength, etc.
Relevant Articles
File Usage
The file tairyouku-baka-negima.png has been used in the following articles: