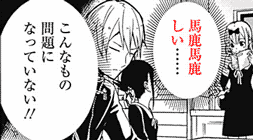 Translation
Context: the student council president thinks a quiz question doesn't make sense.
bakabakashii...
馬鹿馬鹿しい・・・
[What a waste of time.] (This is stupid.)
konna mono mondai ni natte-inai!!
こんなもの問題になっていない!!
Something like this isn't become a question!! (literally.)

i.e. it's such a bad quiz question it doesn't meet the minimum requirements for the character to acknowledge it's actually a question.
He thinks quiz questions shouldn't be like this.
Relevant Articles
こんな, そんな, あんな, どんな, "like this," "like that," "like what."

"To become."
File Usage
The file bakabakashii-kaguya-kokusaretai.png has been used in the following articles: