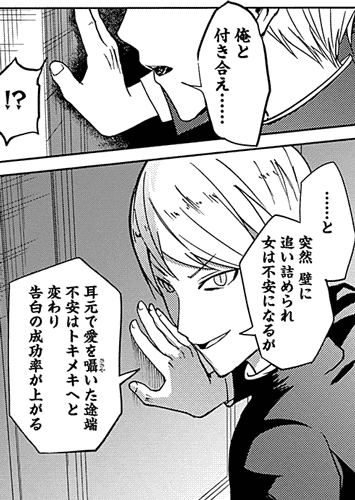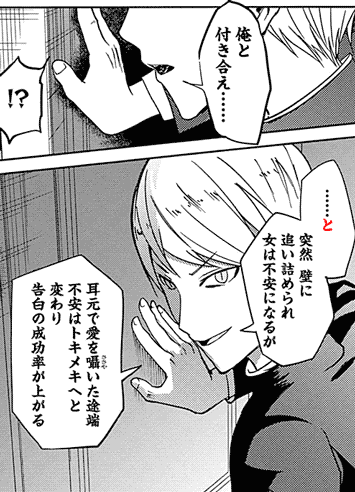 Translation
Context: the student council president explains the power of kabedon.
ore to
tsukiae......
俺と付き合え・・・・・・
[Go out with] me......

tsukiau 付き合う
To do an activity with someone.
To hang with.
To go out with.
To date with.

......to
・・・・・・と
(quoting particle, implies the phrase before is a quote.)
[......you say something like that.]
totsuzen kabe ni
oitsumerare
突然 壁に追い詰められ
Suddenly being cornered into a wall.
onna wa fuan ni naru ga
女は不安になるが
The woman becomes uneasy but
mimimoto de ai wo sasayaita totan
耳元で愛を囁いた途端
The moment [you] whisper love close [to her] ear

mimimoto de 耳元で
At ear's base. (literally.)
Close to the ear. (adverb.)

fuan wa tokimeki e to
kawari
不安はトキメキへと変わり
Uneasiness turns into fluttering, [and]
kokuhaku no seikouritsu ga agaru
告白の成功率が上がる
The success rate of the confession increases.
Relevant Articles
Wall slam.

俺. "I," "me."

"To become."

Also known as "past form."
File Usage
The file kabedon-kaguya-kokurasetai.png has been used in the following articles: