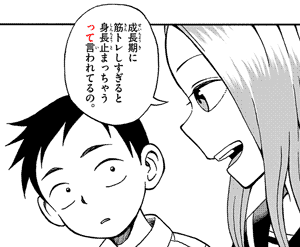 Translation
Context: Nishikata 西片 is making an habit of exercising. Takagi 高木 teases him.
seichouki ni
kin-tore shisugiru to
shinchou tomacchau
tte iwareteru no.
成長期に
筋トレしすぎると
身長止まっちゃう
って言われてるの。
It's said that: during the growth-period (of a child growing in height), if [you] exercise too much, [your] height ends up stopping [growing].

They say if you exercise too much, you stop growing up!
Contractions:
tomacchau 止まっちゃう
tomatte-shimau 止まってしまう
Ends up stopping.
iwareteru 言われてる
iwarete-iru 言われている
Is been said.
Relevant Articles
File Usage
The file tte-iwareteru-karakai-jouzu-takagi-san.png has been used in the following articles: