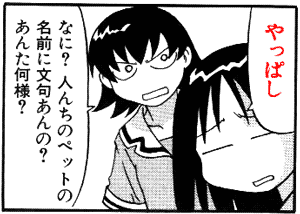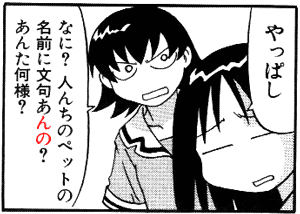 Translation
Context: Ayumu is a transfer student. She came from Osaka. Tomo nicknamed her Osaka, literally, because she came from Osaka. Ayumu asks Tomo if she ever had a pet, and what was the pet called. Tomo answered she had a hamster, whom she named Hamu-chan.
yappashi
やっぱし
[Just as I thought].

Her naming sense is too simplistic!

nani?
なに?
What?
hito'n-chi no petto no namae ni monku an'no?
人んちのペットの名前に文句あんの?
Do [you] have a complain [about] the name of [other] people's pets?
anta nani-sama?
あんた何様?
[Who do you think you are]?
Relevant Articles
File Usage
The file yappashi-azumanga-daioh.png has been used in the following articles: