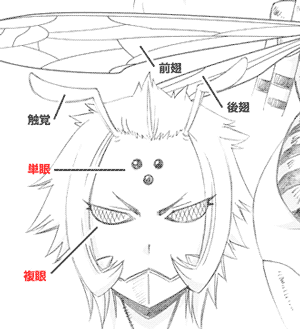 Translation
The design for Killa キーラ, a killer bee monster girl, includes:
zenshi
前翅
Forewing. (of an insect.)
koushi
後翅
Hindwing. (of an insect.)
shokkaku
触覚
Antennae. (not to be confused with ahoge アホ毛.)
tangan
単眼
Simple eyes.
fukugan
複眼
Compound eyes.
Relevant Articles
単眼, having "one eye" like a cyclops.
File Usage
The file fukugan-tangan-killa-monmosu.png has been used in the following articles: