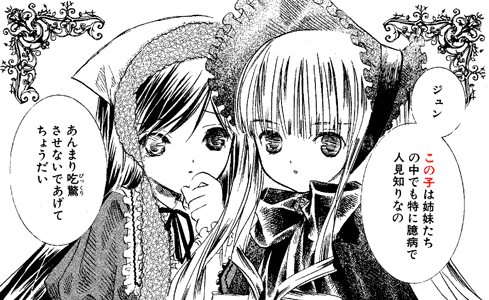 Translation
Jun
ジュン
(Character name.)
kono ko wa shimai-tachi
no naka demo toku ni okubyou de
hito mi-shiri nano
この子は姉妹たちの中でも特に臆病で人見知りなの
Even among the sisters, this [girl] is particularly timid and afraid of strangers.
anmari bikkuri
sasenaide agete
choudai
あんまり吃驚させないであげてちょうだい
Please refrain from surprising her too much.
Despite looking practically the same age, Shinku 真紅 (right) refers her sister Suiseiseki 翠星石 (left) as kono ko.
Relevant Articles
File Usage
The file kono-ko-rozen-maiden.png has been used in the following articles: