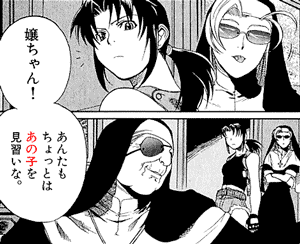 Manga:
Black Lagoon
(Chapter 9, Calm Down, Two Men - Part 1)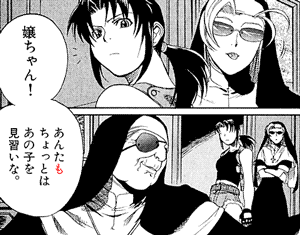 Translation
Context: an old woman gives advice to an adult woman.
jouchan!
嬢ちゃん!
[Hey]!

jouchan 嬢ちゃん
ojouchan お嬢ちゃん
Refers to a young girl. (younger than the speaker, at least.)

anta mo
chotto wa
ano ko wo
minarai na.
あんたもちょっとはあの子を見習いな。
You [should] learn a little more [from] that [boy].
Relevant Articles
File Usage
The file ano-ko-black-lagoon.png has been used in the following articles: