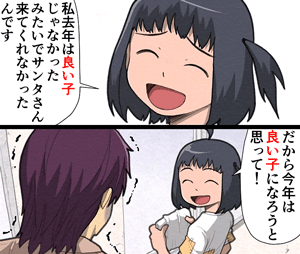 Translation
Context: it's Christmas and a grade school student is cleaning the school windows. But why?
watashi kyonen wa ii ko
janakatta
mitai de Santa-san
kite-kurenakatta-n-desu
私去年は良い子じゃなかったみたいでサンタさん来てくれなかったんです
It seems last year I wasn't a good child so Santa-san didn't come [for me].
dakara kotoshi wa
ii ko ni narou to
omotte!
だから今年は良い子になろうと思って!
As such, [I] thought: this year [I] will become a good kid!
Relevant Articles
File Usage
The file ii-ko-hitorigurashi-shougakusei.png has been used in the following articles: