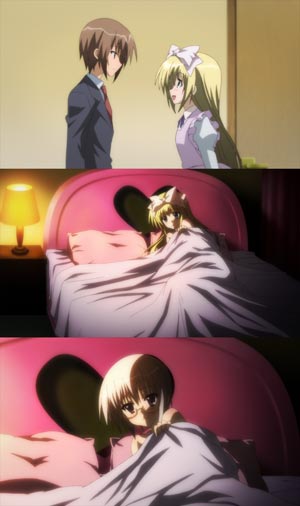 Translation
kyou mo otsukaresama deshita
今日もお疲れ様でした
Today, too, [thank you for your work].
anata, gohan ni shimasu?
ofuro ni shimasu?
soretomo...
あなた、ご飯にします?
お風呂にします
それとも・・・
[What do you want to do, husband?]
Dinner? Bath? Or...
ko... kore wa... dokidoki wakuwaku no...
こ・・・これは・・・ドキドキワクワクの・・・
Th... this is... [that] exciting...
soretomo Nakameguro-senpai?
それとも中目黒先輩?
Or Nakameguro-senpai?
e'?
masaka no sentakushi!
えっ?
まさかの選択肢!
Eh? The [completely] unexpected option!
Context: Shiina Mafuyu 椎名真冬 and Sugisaki Ken 杉崎鍵 are acting like wife and husband. When she starts the famous phrase, Ken expects it to go as the template, but Mafuyu doesn't say "or me," she gives the option to choose Nakameguro Yoshiki 中目黒善樹, a different character instead.
Relevant Articles
先輩, "senior," "upperclassman."
File Usage
The file shinkon-santaku-seitokai-no-ichizon.jpg has been used in the following articles: