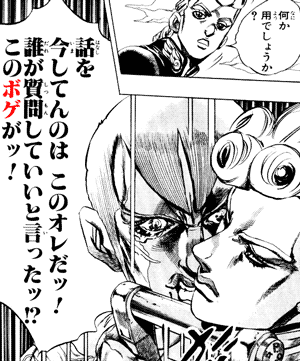 Translation
nanika
you deshou ka?
何か 用でしょうか?

[You want something?]
[Anything you want to discuss?]
[What's the matter?]

hanashi wo
ima shite'n-no wa kono ore da'!
話を 今してんのは (space) このオレだッ!

[The one] talking [right] now is this me!
I am [the one] talking [right] now!

dare ga shitsumon shite ii to itta'!?
誰が質問していいと言ったッ!?
Who said it was alright to ask questions!?
kono boke ga'!
このボケがッ!

"This idiot!"
[You] idiot!
Relevant Articles
俺. "I," "me."

Also known as "past form."
File Usage
The file kono-ore-da-jojo.png has been used in the following articles: