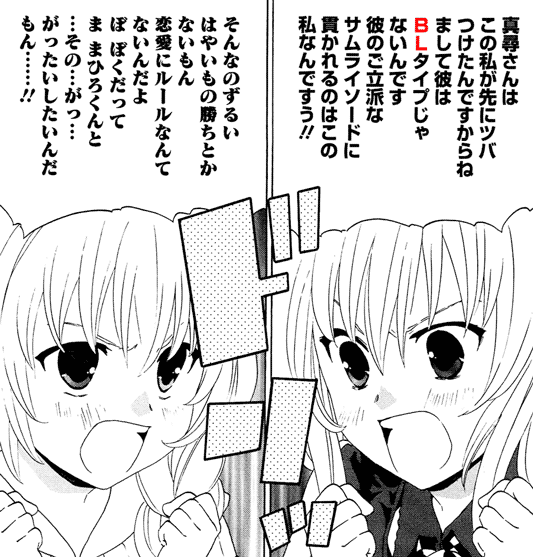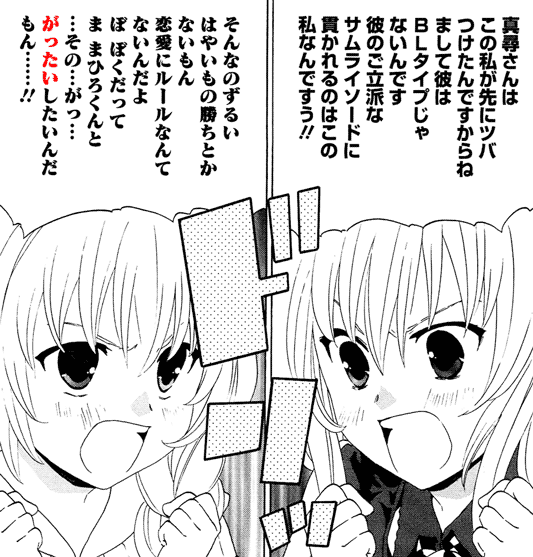 Translation
Context: Nyaruko ニャル子 and Hasuta ハスタ fight over the protagonist's love.
Mahiro-san wa
kono watashi ga saki ni tsuba
tsuketa-n-desu-kara ne
真尋さんは
この私が先にツバ
つけたんですからね
I called dibs on Mahiro-san first, you see.

tsuba wo tsukeru
ツバを付ける
To put spit on [something.] (literally.)
To call dibs on. (because other people won't eat something you already put your spit on.)

mashite kare wa
Bi-Eru-taipu janai-n-desu
まして彼は
BLタイプじゃないんです
Plus he's not a BL-type. (i.e. he's not gay.)
kare no go-rippa-na
samurai-soodo ni
tsuranukareru nowa
kono watashi nan-desuu
彼のご立派な
サムライソードに
貫かれるのはこの
私なんですぅ!!
The one to be pierced by his incredible samurai sword will be me.

I'm not even joking, this is literally what's written there.

sonna no zurui
そんなのずるい
That's unfair.
hayai mono kachi toka
nai mon
はやいもの勝ちとか
ないもん
It's not something like the fastest one wins.
ren'ai ni ruuru nante
nai-n-da yo
恋愛にルールなんて
ないんだよ
There's no such thing as rules when it comes to romance.
bo boku datte
ma Mahiro-kun to
... sono... ga'...
gattai shitai-n-da
mon......!!
ぼ ぼくだって
ま まひろくんと
・・・その・・・がっ・・・
がったいしたいんだ
もん・・・・・・!!
With M-Mahiro-kun
e-even I want to...
...erm... co...
combine......!!
Relevant Articles
この, その, あの, どの.

私, "I," "me."

Also known as "past form."

"Boys' Love."

こんな, そんな, あんな, どんな, "like this," "like that," "like what."

僕. "I," "me," "boy."
File Usage
The file BL-haiyore-nyaruko-san-ch09.png has been used in the following articles: