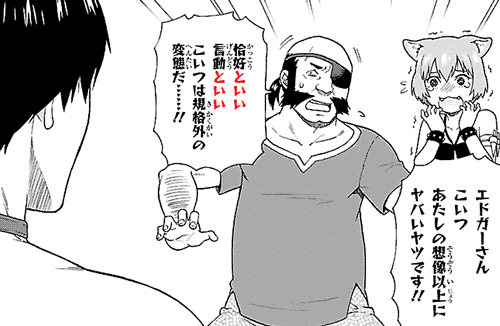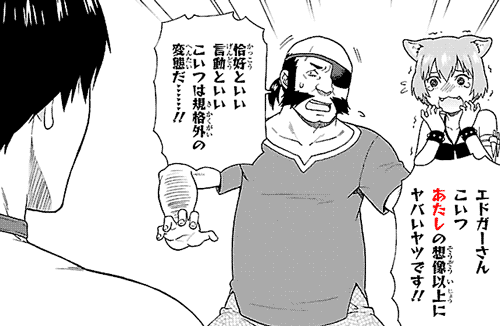 Translation
Edogaa-san
koitsu
atashi no souzou ijou ni
yabai yatsu desu!!
エドガーさんこいつあたしの想像以上にヤバイヤツです!!
Edgar-san, this [guy] is more dangerous than I imagined!

atashi no souzou ijou ni
あたしの想像以上に
Above my imagination.


kakkou to ii
gendou to ii
koitsu wa kikaku-gai no
hentai da......!!
格好といい言動といいこいつは規格外の変態だ・・・・・・!!
(Citing) [his] appearance, the things [he] said and did, (conclusion) this guy is an unparalleled pervert......!!

Given how he looks, and what he says and does, this guy is way worse than the average pervert......!!
kakkou
格好
Appearance. Looks. Outfit.
gendou
言動
What one says and does. In other words:
kotoba to koudou
言葉と行動
Words and actions.
kikaku-gai
規格外
Outside of the standard. Like no other. Without compare. Unparalleled.
Relevant Articles
こいつ, そいつ, あいつ, どいつ.

"I," "me."
File Usage
The file to-ii-to-ii-kemono-michi.png has been used in the following articles: