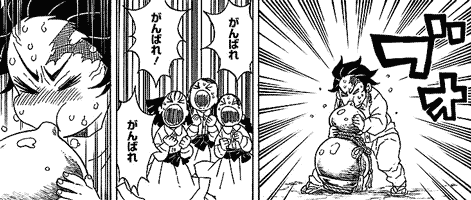 Translation
Context: Kamado Tanjirou 竈門炭治郎 attempts to make a gourd explode by blowing air into it.

The first panel has the so-called "focus lines."
The second and third panel have vertical lines depicting intense emotion.

ganbare, ganbare! ganbare
がんばれ がんばれ! がんばれ
[You can do it! Hang in there!] (etc.)

ganbare is the meireikei 命令形 of ganbaru 頑張る.
ganbaru
頑張る
To put effort. To work hard. To do one's best. To hang in there.
Relevant Articles
File Usage
The file stirred-lines-kimetsu-no-yaiba-ch50.png has been used in the following articles: