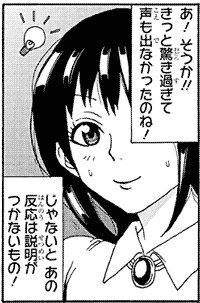 Translation
Context: Teruhashi Kokomi 照橋心美, a bishoujo 美少女, tries to figure out why Saiki Kusuo 斉木楠雄 didn't react to her angelic beauty.
a! sou ka!!
あ!そうか!!
Ah! [I see]!!

I get it!! I figured it out!!

kitto odoroki-sugite koe mo denakatta no ne!
きっと驚き過ぎて声も出なかったのね!
[I'm sure that] [he was] so surprised that [he couldn't even say anything], [wasn't it?]!

odoroki-sugiru
驚き過ぎる
To be very surprised. To be extremely surprised. (compound verb.)
koe ga denai
声が出ない
Voice can't leave [his mouth].
[His] voice doesn't come out.
[He] can't say anything.
[He] was speechless.

janai to, ano han'nou wa setsumei ga tsukanai mono!
じゃないと あの反応は説明がつかないもの!
Otherwise, that reaction can't be explained!

janai to
じゃないと
If not that. (conditional to と)
____ wa setsumei ga tsuku
〇〇は説明が付く
The explanation of [something] is settled. (double subject construction.)
[Something] is explained.
mono
もの
Thing. (noun.)
As a sentence ending particle, denotes the current sentence is a rationale. In this case, "the reaction can't be explained" is the reason why Teruhashi believes "he was so surprised he couldn't even say anything."
Relevant Articles
Also known as "past form."

この, その, あの, どの.
File Usage
The file idea-light-bulb-saiki-kusuo-ch13.png has been used in the following articles: